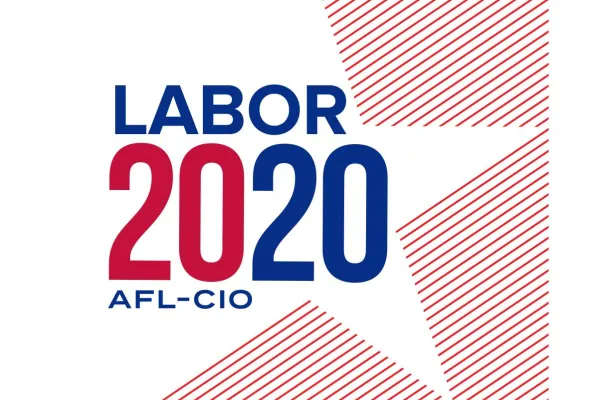 The 2.5 million member New York State AFL-CIO announced the endorsements of candidates running for office in the November 3, 2020 elections. 
President of the New York State AFL-CIO Mario Cilento said, "Now more than ever, as COVID-19 leaves a trail of destruction through the health and economic security of working people, we need elected officials who will stand up and fight for workers both now and in the months and years ahead.
"We endorse these candidates with great confidence that they understand the priorities of union members and will take-on the issues important to all workers while helping to build-up the middle class."
The state federation will be educating and engaging members as part of a grassroots campaign to get them to vote for all of Labor's endorsed candidates.
The complete list of NYS AFL-CIO endorsed candidates can be accessed here.
* = Endorsed Prior to June Primaries
CONGRESSIONAL
CD 1 Nancy Goroff (D)
CD 2 Jackie Gordon (D) *
CD 3 Thomas Suozzi (D) *
CD 6 Grace Meng (D) *
CD 7 Nydia Velazquez (D) *
CD 8 Hakeem Jeffries(D) *
CD 9 Yvette Clarke (D) *
CD 10 Jerrold Nadler (D) *
CD 11 Max Rose (D)
CD 12 Carolyn Maloney (D) *
CD 13 Adriano Espaillat (D) *
CD 14 Alexandria Ocasio-Cortez (D) *
CD 16 Jamaal Bowman (D)
CD 17 Mondaire Jones (D)
CD 18 Sean Patrick Maloney (D)
CD 19 Antonio Delgado (D)
CD 20 Paul Tonko (D)
CD 21 Tedra Cobb (D)
CD 22 Anthony Brindisi (D)
CD 23 Tracy Mitrano (D)
CD 25 Joseph Morelle (D) *
CD 26 Brian Higgins (D)
CD 27 Nate McMurray (D) *

SENATE
SD 1 Laura Ahearn (D)
SD 2 Mario Mattera (R)
SD 3 Monica Martinez (D)
SD 4 Phil Boyle (R)
SD 5 James Gaughran (D)
SD 6 Kevin Thomas (D)
SD 7 Anna Kaplan (D)
SD 8 John Brooks (D)
SD 9 Todd Kaminsky (D)
SD 10 James Sanders, Jr. (D)
SD 11 John Liu (D)
SD 12 Michael Gianaris (D) *
SD 13 Jessica Ramos (D) *
SD 14 Leroy Comrie (D)
SD 15 Joseph Addabbo (D)
SD 16 Toby Ann Stavisky (D)
SD 18 Julia Salazar (D) *
SD 19 Roxanne Persaud (D) *
SD 20 Zellnor Myrie (D)
SD 21 Kevin Parker (D)
SD 22 Andrew Gounardes (D)
SD 23 Diane Savino (D) *
SD 24 Andrew Lanza (R)
SD 25 Jabari Brisport (D)
SD 26 Brian Kavanagh (D)
SD 27 Brad Hoylman (D) *
SD 28 Liz Krueger (D)
SD 29 Jose Serrano (D)
SD 31 Robert Jackson (D) *
SD 32 Luis Sepulveda (D) *
SD 33 Gustavo Rivera (D)
SD 34 Alessandra Biaggi (D) *
SD 35 Andrea Stewart-Cousins (D)
SD 36 Jamaal Bailey (D)
SD 37 Shelley Mayer (D)
SD 38 Elijah Reichlin-Melnick (D)
SD 39 James Skoufis (D)
SD 40 Peter Harckham (D)
SD 41 Karen Smythe (D)
SD 42 Jennifer Metzger (D)
SD 44 Neil Breslin (D)
SD 45 Kimberly Davis (D)
SD 46 Michelle Hinchey (D)
SD 47 Joseph Griffo (R)
SD 48 Patty Ritchie (R)
SD 49 Jim Tedisco (R)
SD 50 John Mannion (D)
SD 51 James Barber (D)
SD 53 Rachel May (D)
SD 54 Pamela Helming (R)
SD 55 Samra Brouk (D)
SD 56 Jeremy Cooney (D)
SD 58 Leslie Danks Burke (D)
SD 59 Patrick Gallivan (R)
SD 60 Sean Ryan (D)
SD 61 Jacqueline Berger (D)
SD 62 Robert Ortt (R)
SD 63 Tim Kennedy (D)
ASSEMBLY
AD 1 Fred Thiele, Jr. (D)
AD 2 Laura Jens-Smith (D)
AD 3 Joseph DeStefano (R)
AD 4 Steve Englebright (D)
AD 5 Doug Smith (R)
AD 6 Philip Ramos (D)
AD 7 Jarret Gandolfo (R)
AD 8 Dylan Rice (D)
AD 9 Michael Durso (R)
AD 10 Steve Stern (D)
AD 11 Kimberly Jean Pierre (D)
AD 12 Michael Marcantonio (D)
AD 13 Charles Lavine (D)
AD 14 David McDonough (R)
AD 16 Gina Sillitti (D)
AD 17 John Mikulin (R)
AD 18 Taylor Darling (D)
AD 19 Edward Ra (R)
AD 20 Gregory Marks (D)
AD 21 Judith Griffin (D)
AD 22 Michaelle Solages (D)
AD 23 Stacey Pheffer Amato (D)
AD 24 David Weprin (D) *
AD 25 Nily Rozic (D)
AD 26 Edward Braunstein (D)
AD 27 Daniel Rosenthal (D)
AD 28 Andrew Hevesi (D)
AD 29 Alicia Hyndman (D)
AD 30 Brian Barnwell (D)
AD 32 Vivian Cook (D)
AD 33 Clyde Vanel (D) *
AD 35 Jeffrion Aubry (D) *
AD 37 Catherine Nolan (D) *
AD 39 Catalina Cruz (D) *
AD 40 Ronald Kim (D) *
AD 41 Helene Weinstein (D)
AD 42 Rodneyese Bichotte (D)
AD 43 Diana Richardson (D) *
AD 44 Robert Carroll (D)
AD 45 Steven Cymbrowitz (D)
AD 46 Mathylde Frontus (D)
AD 47 William Colton (D)
AD 48 Simcha Eichenstein (D)
AD 49 Peter Abbate, Jr. (D)
AD 52 JoAnne Simon (D)
AD 54 Erik Martin Dilan (D)
AD 55 Latrice Monique Walker (D)
AD 58 Nick Perry (D)
AD 59 Jaime Williams (D)
AD 60 Charles Barron (D)
AD 61 Charles Fall (D)
AD 63 Michael Cusick (D)
AD 64 Brandon Patterson (D)
AD 65 Yuh-Line Niou (D) *
AD 66 Deborah Glick (D)
AD 67 Linda Rosenthal (D)
AD 68 Robert Rodriguez (D) *
AD 69 Daniel O'Donnell (D)
AD 70 Inez Dickens (D)
AD 71 Al Taylor (D) *
AD 72 Carmen De La Rosa (D)
AD 73 Dan Quart (D) *
AD 74 Harvey Epstein (D)
AD 75 Richard Gottfried (D)
AD 76 Rebecca Seawright (Independent)
AD 77 Latoya Joyner (D)
AD 78 Jose Rivera (D) *
AD 79 Chantel Jackson (D)
AD 80 Nathalia Fernandez (D)
AD 81 Jeffrey Dinowitz (D) *
AD 82 Michael Benedetto (D) *
AD 83 Carl Heastie (D)
AD 84 Amanda Septimo (D)
AD 86 Victor Pichardo (D)
AD 87 Karines Reyes (D) *
AD 88 Amy Paulin (D) *
AD 89 J. Gary Pretlow (D)
AD 90 Nader Sayegh (D)
AD 91 Steven Otis (D) *
AD 92 Thomas Abinanti (D) *
AD 93 Chris Burdick (D)
AD 95 Sandy Galef (D)
AD 96 Kenneth Zebrowski (D)
AD 97 Ellen Jaffee (D)
AD 100 Aileen Gunther (D)
AD 101 Chad McEvoy (D)
AD 103 Kevin Cahill (D)
AD 104 Jonathan Jacobson (D)
AD 106 Didi Barrett (D)
AD 109 Patricia Fahy (D)
AD 110 Phil Steck (D)
AD 111 Angelo Santabarbara (D)
AD 113 Carrie Woerner (D)
AD 115 David "Billy" Jones (D)
AD 117 Ken Blankenbush (R)
AD 119 Marianne Buttenschon (D)
AD 120 William Barclay (R)
AD 121 Dan Buttermann (D)
AD 123 Donna Lupardo (D)
AD 125 Dr. Anna Kelles (D)
AD 126 Dia Carabajal (D)
AD 127 Albert Stirpe, Jr. (D)
AD 128 Pamela Hunter (D)
AD 129 William Magnarelli (D)
AD 132 Phillip Palmesano (R)
AD 133 Charon Sattler LeBlanc (D)
AD 135 Jen Lunsford (D)
AD 136 Sarah Clark (D)
AD 137 Demond Meeks (D) *
AD 138 Harry Bronson (D) *
AD 140 Bill Conrad (D)*
AD 141 Crystal Peoples-Stokes (D)
AD 142 Patrick Burke (D)
AD 143 Monica Wallace (D)
AD 145 Angelo Morinello (R)
AD 146 Karen McMahon (D)
AD 149 Jon Rivera (D) *