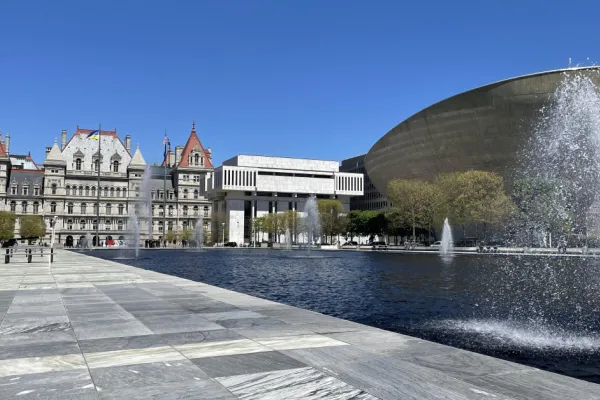 Click here for listing of Support and Oppose Memos >>>
Legislation on the state and national levels concerns the 2.5 million union members and their families in New York as it concerns every citizen. The New York State AFL-CIO provides a voice for these union members and for all workers, in both the state Legislature and with the state Congressional delegation.
Whatever it is, the New York State AFL-CIO has an interest. This is so, first of all, because 2.5 million people have an interest in almost everything, but beyond that, because the state AFL-CIO speaks not only for its own members, but all New Yorkers who work for wages and salaries and for all who have no other voice.
A number of times each year, the officers or legislative staff of the state federation present labor's views to legislative committees conducting hearings on legislation of interest to the trade union movement. Frequently, staff members of the New York State AFL-CIO Department of Legislation and of affiliated unions are at the state Capitol or in Congressional offices to discuss pending bills with individual legislators and members of Congress.
This is the "labor lobby" in action, functioning in an open, straightforward fashion, pursuing labor's legislative objectives as set forth in policy statements of the State Federation.
Some of these objectives have to do with unions as such and the regulations that affect them, including the Taylor Law and the National Labor Relation's Act, State Labor Relations Act, Fair Labor Standards Act, Unemployment Insurance Law, Prevailing Rate Laws and Workers' Compensation Laws, Temporary Disability Insurance, etc.
Each year, the Legislative Department reviews over 14,000 legislative submissions in order to determine the impact on organized labor and the community. Where appropriate, a position to support or oppose the legislation is formulated and memoranda are issued. A network of communication is maintained among the labor lobby representatives of our affiliates as well as the central labor councils, and area labor federations throughout the state and particularly with the legislative action committees of this federation.
The department is frequently called upon to initiate legislation that will protect or benefit workers and their families. This department drafts bills, prepares legislative memoranda and assists in publicizing legislative issues. Basic legislative research is also conducted by this department. Affiliates often turn to us as a resource of information and assistance on legislative issues.
The labor lobby also deals with such familiar questions as unemployment insurance, workers' compensation, off shoring, paid family leave, child care, minimum wage, workplace health and safety, public employee pensions, education, mass transit and economic development among others.
Recent Legislative Alerts
Legislative Alert: May 13, 2022
Legislative Alert: May 6, 2022
View more