Saratoga Race Course 
267 Union Avenue 
Saratoga Springs, NY 12866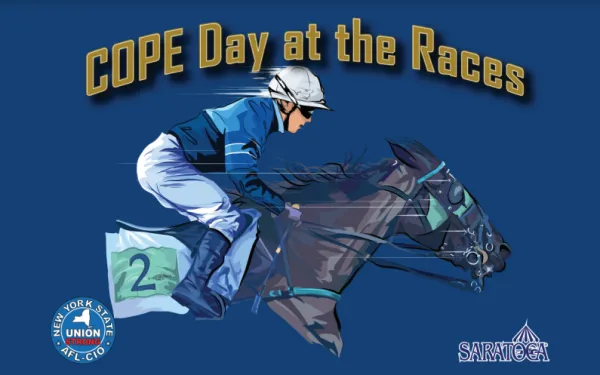 You are cordially invited to join your union family for our annual Day at the Races, July 20th from 11am - 6pm to benefit the New York State AFL-CIO Committee on Political Education (COPE). The event will be held at Saratoga Race Course's The Rail at The 1863 Club. The COPE Department provides year-round programs of political education, Get-Out-The-Vote campaigns, and non-partisan registration for union members across the state. 
Tickets are available at the link above, the cost is $600 per person. This price includes clubhouse admission, post parade programs, a gourmet buffet lunch at your own trackside table, unlimited open bar and private betting windows.
Hotel Reservations
The area union hotels are the Gideon Putnam and the Saratoga Hilton. 
A hotel block with a special rate has been reserved at the Saratoga Hilton. Click here to reserve a room in the block.
Directions
Traveling By Car       
From New York Metropolitan Area:         
New York Thruway (I-87) to Exit 24 at Albany, then the Northway (I-87) to Exit 14. West on NY Route 9P, just outside the track gates. The track can also be reached by an alternate route, leaving the Northway at Exit 13N - US Route 9.
From Western New York:         
New York Thruway (I-90) to Exit 28 at Fultonville (Route 30A), to Johnstown and Route 29E to Saratoga Springs; or New York Thruway to Exit 27 at Amsterdam, Route 67E to Ballston Spa and Route 50 to Saratoga Springs.
From Upstate and Canada:         
Northway (I-87) to Exit 14 to Saratoga Springs.
From Massachusetts and Connecticut:        
Mass. Turnpike to NY Thruway (I-90), north to Exit 24 (Albany), then Northway (I-87) to Exit 14.
From Vermont and New Hampshire:        
Route 40 to Schuyerville and Route 29 to Saratoga Springs.
Traveling By Bus       
Adirondack Trailways provides bus service to Saratoga Springs. Call (800) 776-7548 or visit trailways.com for fares and schedules.
Traveling By Rail       
Amtrak provides service to Saratoga Springs. For a list of departure cities, prices and reservations, call 1-800-USA-RAIL or visit amtrak.com.