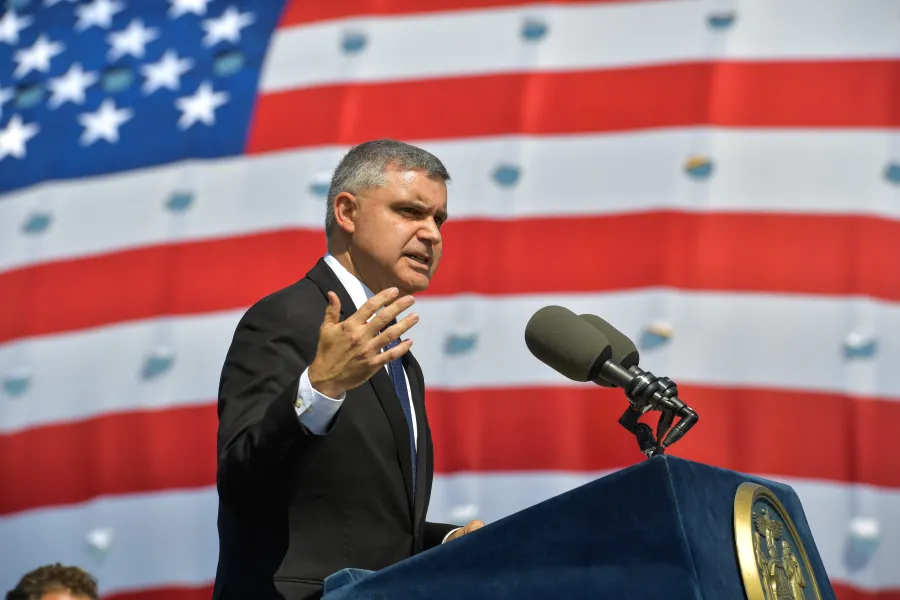 As a member of the Newspaper Guild-CWA since 1990, Mario Cilento has a long history of fighting for working men and women. His work at the New York State AFL-CIO began in 1992; he was elected president in 2011.
President Cilento has concentrated on harnessing the collective power of the State AFL‐CIO's 2.5 million members statewide by transforming the existing political campaign framework into a proactive year‐round legislative action network. 
Cilento's renewed focus on membership engagement combined with new communication strategies helped lead to the resounding and historic defeat of the 2017 constitutional convention ballot proposal despite the fact early polls showed close to 70 percent support for a constitutional convention. The measure was eventually defeated by 83 percent to 17 percent.
In 2018, Cilento launched the Federation's "Union Strong" campaign. The campaign builds off the success of the constitutional convention victory and serves as a reminder of what working people can accomplish when we all work together. In March 2019, the state federation began producing the "Union Strong" podcast as another communications tool. 
Cilento's new approach to grassroots campaigns has resulted in the enactment of legislation that has made a real impact on the lives of working families. 
Under his leadership, the New York State AFL-CIO has secured several protections for workers across New York State in the wake of the U.S. Supreme Court decision on Janus v AFSCME, including preserving a public employee's right to join a union and protecting their rights after they have joined. 
The Union Movement has secured several other victories under President Cilento's leadership, including legislation related to COVID-19 making quarantined workers and those providing care to loved ones eligible for paid leave.  The State federation also helped secure paid leave for vaccinations for all workers and expedited death benefits to families of essential workers in the public sector who lost their lives keeping all of us safe.
Additional legislative victories include historic labor standards on renewable energy projects including prevailing rate, project labor agreements, Buy American, labor peace agreements, and $25 million in annual funding for the Office of Just Transition to develop workforce training and preparation for employment in renewable energy.  
The federation also won labor peace as an ongoing condition of licensure for adult-use cannabis, additional funding for the Child Care Facilitated Enrollment program, the Farmworkers Fair Labor Practices Act which gives farmworkers labor rights including the right to organize, a mandatory day of rest, and the right to overtime pay; the ground-breaking Paid Family Leave legislation; a $15 per hour minimum wage with indexation; the permanent reauthorizations of the World Trade Center Health Program and the September 11 Victim Compensation Fund to aid the thousands of brave men and women who risked their own lives to help in the rescue and recovery after 9/11; the first increase in unemployment benefits in 14 years with historic indexation; a 50 percent boost in the minimum workers' compensation benefit; and passage of the Safe Patient Handling Act.
President Cilento graduated from Fordham University in 1990 with a Bachelor of Science Degree.