MEMORANDUM: INCLUDE LABOR STANDARDS IN BROWNFIELD DEVELOPMENT
New York State AFL-CIO
31 Jan, 2022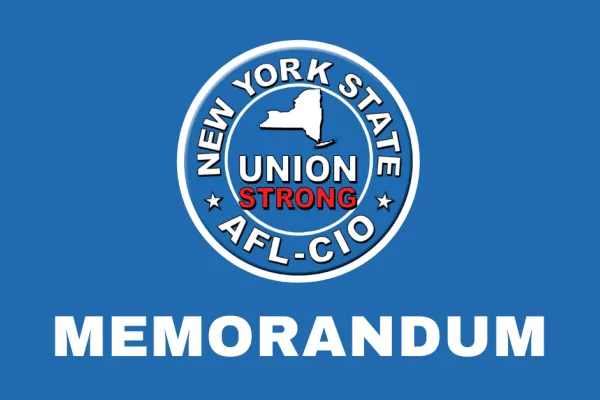 INCLUDE LABOR STANDARDS IN BROWNFIELD DEVELOPMENT 
Part U and Part LL of A9008/S8008 
Transportation, Economic Development and Environmental Conservation Budget Bill 
The New York State AFL-CIO, representing 2.5 million members, retirees and their families, urges that the above referenced Parts of the Executive Budget proposal be amended to clarify that public works labor standards are  applicable to brownfield development tax credits like other government funded projects. 
The brownfield remediation tax credit is designed to be an economic development program, and while there have been  significant benefits to developers, those benefits are often not shared by the workers. Ensuring that public works labor  standards apply to the program will better support New York's workers by raising wages, benefits and safety standards.  
Further, this will allow employers that pay their workers decent wages and offer benefits a level playing field to compete  for contracts. When there are no such standards wages stay low, giving out-of-state contractors and workers an  advantage when bidding remediation work. 
Adding public works to the tax credit would also add transparency to every brownfield project. Proper documentation  would be required regarding how the remediation was done and at what level, as well as the dates of completion for  each part of the remediation. It would also allow for the visibility of payroll records through FOIA to make sure that  workers were not cheated out of pay, and end the secrecy that gives bad actors a leg up on the bidding process.  
Therefore, this Federation urges this bill be amended accordingly. 
For further information contact the Legislative Department at 518-436-8516.