SUPPORT MEMO: ENSURE WORKERS SUFFERING FROM PTSD RECEIVE CARE
New York State AFL-CIO
07 Jan, 2022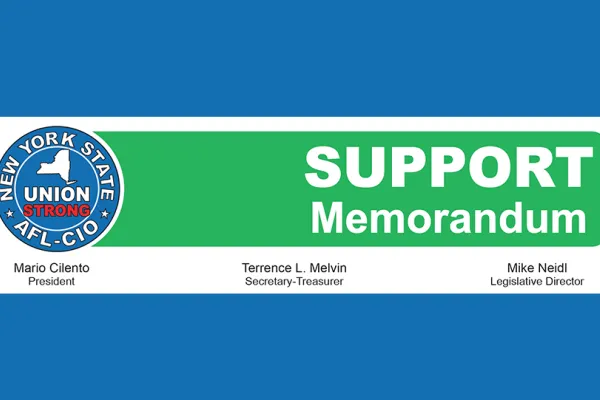 ON SENATE LABOR AGENDA 1/10/2022 
ENSURE WORKERS SUFFERING FROM PTSD RECEIVE CARE  
S6373B Savino/A2020A Reyes 
The New York State AFL-CIO, representing 2.5 million union members and their families, as well as our retirees and  their families, supports the above-referenced legislation.  
This legislation would prohibit workers' compensation carriers and self-insured employers from denying otherwise  valid claims for PTSD and extreme stress based on a defense that the injured worker should have expected to  encounter the stress, regardless of that worker's occupation, position, or title. This defense represents a regressive  and outdated approach to mental health. Currently, carriers and self-insured employers can assert this unjustified  defense unless the worker in question has one of a very few titles that have already been carved out.  
Workers injured or sickened at work deserve the full protections of the workers' compensation law and all the care  and benefits it affords, regardless of whether their injury or illness is physical or mental. Eliminating this regressive defense for all workers, regardless of title, represents another step toward eliminating the stigma and disparate  treatment of mental illness. It also represents a step toward ensuring that injured and ill workers get prompt, high quality care and adequate wage replacement, to recover from injuries and get back to work. This legislation will  ease access to benefits for all workers with work-related PTSD, including those suffering as a result of COVID-19 or  workplace harassment or abuse. Further, it will help ensure that healthcare workers and other frontline workers  receive the care they need for trauma suffered as a result of caring for the sick and serving the public all while  witnessing firsthand the devastation wrought by a global pandemic. Their trauma has been exacerbated by factors  such as excessive use of mandatory overtime, short staffing, and extreme fatigue.  
Therefore, this Federation urges this bill be passed.  
For further information contact the Legislative Department at 518-436-8516.