SUPPORT MEMO: MANDATORY OVERTIME VIOLATIONS AGAINST NURSES
New York State AFL-CIO
01 Feb, 2022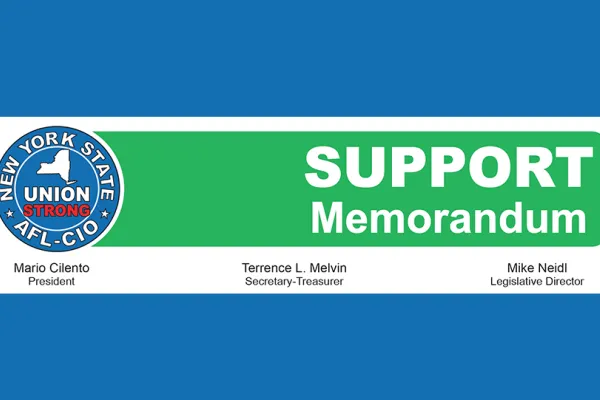 ON SENATE LABOR AGENDA 2/1/2022 
MANDATORY OVERTIME VIOLATIONS AGAINST NURSES 
S1997A Jackson/A286A Gunther 
The New York State AFL-CIO, representing 2.5 million union members and their families, as well as our retirees and their  families, supports the above-referenced legislation.  
This bill amends the Labor law to strengthen enforcement of a law enacted in 2008 that placed limitations on various  health care providers from mandating overtime for nurses. Specifically, this bill will create a fine of between $1000 and  $3000 for each employer infraction and allow the employee who is wrongfully mandated overtime to receive an  additional 15% of "overtime payment" as bonus pay.  
The nurse overtime law was enacted to improve the quality of care, patient safety and worker health and safety. In too  many instance nurses continue to be required to work continuous double shifts and often even longer due to  inadequate staffing. This can lead to otherwise avoidable problems in the delivery of health care. Unfortunately, while  the 2008 law established a good policy, it included no concrete repercussions for violators.  
With passage of this legislation, New York State is sending a clear message; when employers willingly break the law and  endanger patient safety or workers safety, they will be held accountable.  
Therefore, this Federation urges this bill be passed.  
For further information contact the Legislative Department at 518-436-8516.