SUPPORT MEMO: NEW YORK WORKERS BUY AMERICAN SALT
New York State AFL-CIO
14 Jan, 2022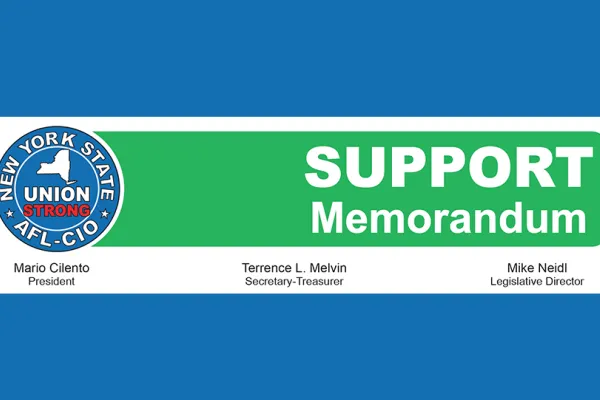 SUPPORT NEW YORK WORKERS BUY AMERICAN SALT 
S3908A Kennedy/A7919 Bronson 
The New York State AFL-CIO, representing 2.5 million union members and their families, as well as our retirees and their  families, supports the above-referenced legislation.  
This bill would require public agencies and authorities that purchase rock salt or sodium chloride to purchase salt mined  in the United States. This requirement is subject to certain waivers and exceptions, such as if the salt is not readily  available from mines located in the United States. 
New York State salt mines employ union members, who are paid fair middle-class wages and benefits. These workers  spend their salary here in New York and pay taxes here in New York. This bill not only supports these workers but also  has a positive economic impact on the New York State economy. Requiring New York State agencies and authorities to  procure domestically mined salt will level the playing field for New York employers with foreign mines that have  competitive advantages because they often have substandard labor benefits and costs. 
Therefore, this Federation urges this bill be passed.  
For further information contact the Legislative Department at 518-436-8516.