SUPPORT MEMO: PREVENT WAGE THEFT
admin-user-default
01 Apr, 2019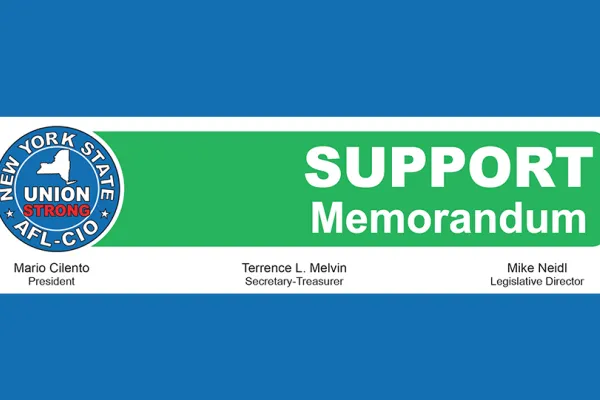 A486 Rosenthal L, et al/S2844 Ramos
The New York State AFL-CIO, representing 2.5 million union workers and their families, as well as our retirees and their families, supports the above-referenced legislation.
Important strides to prevent wage theft have been made in recent years but the issue remains a problem. Exploitative employers often hide or transfer their assets to avoid paying wages they have stolen from their employees. Even when workers win a court-awarded judgment, often it is unlikely they will collect the money owed to them. This bill will update New York law and bring it in-line with other states that provide workers with legal tools to ensure their employers will pay them once they are awarded a judgment.
The proposed legislation will expand New York's Mechanics' Lien Law to include all workers, strengthen the lien remedy, expand pre-judgment attachment of assets for labor law claims and allow workers to seek court-supervised attachment of an employer's property prior to the resolution of the case. The bill will also streamline procedures for holding the largest shareholders of privately held corporations personally liable for wage theft.
When workers are unable to collect the wages they are owed, the minimum wage, overtime and other laws are rendered useless. Scofflaw employers not only steal workers' wages, but also cheat the government of payroll taxes and undermine law-abiding competing businesses. This hurts working families, legitimate businesses, and the economy.
Therefore, this Federation urges this bill be passed.
For further information, contact the Legislative Department at 518-436-8516.
MN:ns opeiu-153 Memo #27/2019