SUPPORT MEMO: PROHIBIT MANDATORY OVERTIME FOR HOME CARE NURSES
New York State AFL-CIO
28 Jan, 2022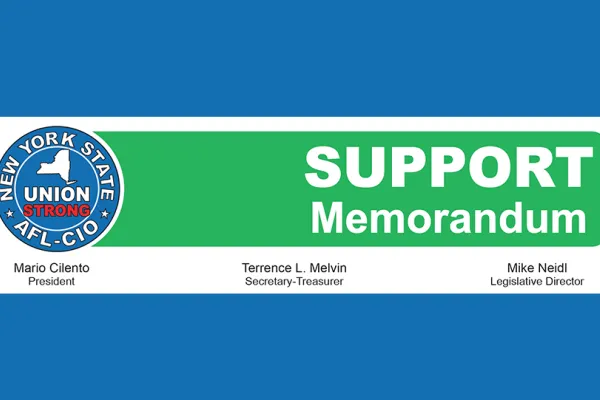 ON SENATE LABOR AGENDA 2/1/2022 
PROHIBIT MANDATORY OVERTIME FOR HOME CARE NURSES 
S4885A Savino/A181A Gunther 
The New York State AFL-CIO, representing 2.5 million union members and their families, as well as our retirees and their  families, supports the above-referenced legislation.  
This bill amends the nurse overtime prohibition law enacted in 2008, to cover home care nurses who were excluded  from the original bill. This will provide home care nurses with the same protections that are currently afforded to nurses  in other health care settings, with regard to consecutive hours of required work. 
The nurse overtime law was enacted to ensure nurses receive adequate rest and preparation time to deliver quality  health care to their patients. Requiring nurses to work hours beyond a regular shift or for multiple consecutive shifts, can jeopardize patient safety. This can also be detrimental to the health and safety of nurses due to the high-stress  environment, and the physical and emotional consequences of working long hours. The COVID-19 pandemic only  exacerbated the threat to the safety of home care nurses and their patients.  
Home care nurses should be entitled to the same protections against unscheduled, mandatory overtime as all other  types of nurses except on a voluntary or emergency basis. This bill will correct the inequity in the current law and  improve both patient and worker safety. 
Therefore, this Federation urges this bill be passed.  
For further information contact the Legislative Department at 518-436-8516.