SUPPORT MEMO: STRENGTHEN PROTECTIONS FROM EXCESSIVE NURSE OVERTIME
New York State AFL-CIO
27 Jan, 2022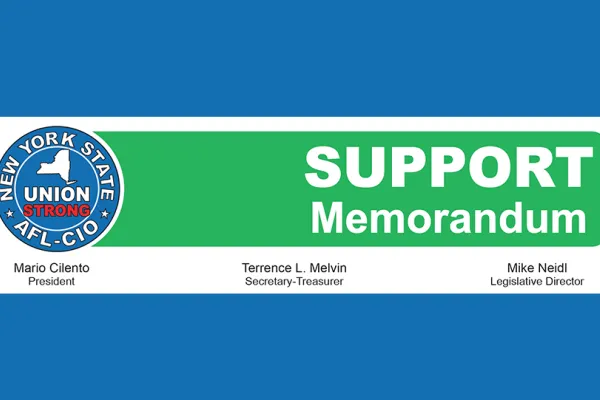 ON SENATE LABOR AGENDA 2/1/2022 
STRENGTHEN PROTECTIONS FROM EXCESSIVE NURSE OVERTIME 
S8063 Ramos/A8874 Joyner 
The New York State AFL-CIO, representing 2.5 million union members and their families, as well as our retirees and their  families, supports the above-referenced legislation.  
This legislation amends the Labor Law to strengthen provisions that prohibit health care employers from mandating overtime  for nurses. This law has been in effect for over a decade but in the interests of quality care and nurse safety, more work is  needed to improve compliance from employers.  
Current law allows employer exemptions to the mandatory overtime prohibition for several reasons including a government  declared state of emergency or a natural disaster, with no limits on the duration. These exemptions were intended to allow  employers to adapt, on a short-term basis, to unforeseen events that could not have been planned for, that could disrupt  travel to and from work and/or create such a patient overload that the employers could not meet the demands.  Unfortunately, employers have too often used the blanket emergency exemptions as an excuse to cover for inadequate  staffing policies.  
This bill clarifies that the exemption for a declared state of emergency is limited to 30 days. This allows a full month to adapt  to any longer-term emergencies with scheduling changes, hiring and other means of adapting to an emergency. The bill would  limit the natural disaster exemption to three days which allows for employers to adapt accordingly to unforeseen staffing  issues cause by travel and/or power disruption or other issues resulting from the disaster. 
Nurses that are required to work shifts on end with patient loads that exceed acceptable standards can become exhausted.  Combined with the stress of obtaining childcare or making other family arrangements that become interrupted as a result of  mandatory overtime can endanger their physical and mental health, in turn jeopardizing the quality of care and the integrity  
of our health care system. Capping the exemptions from the mandatory overtime prohibition at a reasonable duration will  alleviate this situation.  
Therefore, this Federation urges this bill be passed.  
For further information contact the Legislative Department at 518-436-8516.