Support Memo - SUPPORT NURSING HOME STAFFING STANDARDS
admin-user-default
30 Apr, 2021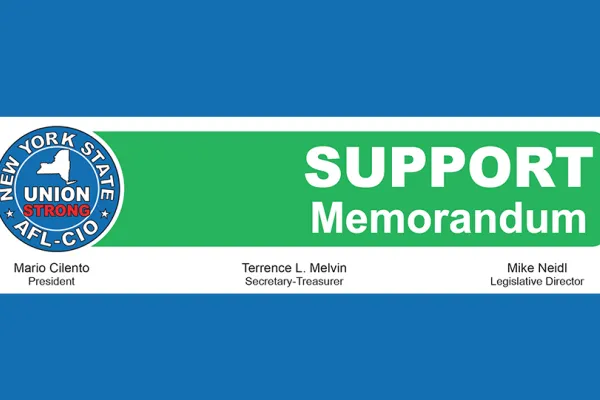 ON SENATE HEALTH AGENDA 4/26/2021 
S6346 Rivera/A7119 Gunther 
The New York State AFL-CIO, representing 2.5 million union members and their families, as well as our retirees and their families, strongly supports this bill. 
This amends the public health law to establish staffing hours of care by nurses and certified nurse assistants (CNAs) for  residents of nursing homes beginning in 2022. The bill also establishes transparency and enforcement procedures and mechanisms that will help improve the quality of nursing home care. 
Establishment of safe staffing policies in all health care facilities is a priority of the labor movement and this bill is a  major step forward to achieving that goal. Nursing homes are already subject to staffing standards per federal law and  this bill will build on those standards to improve health care for residents and help ensure nurses and CNAs are able to  perform their duties in the safest and most effective way.  
It's no secret that the COVID pandemic overwhelmed nursing homes and devastated the lives of far too many residents  and families. There is no question that adequate staffing requirements and planning could have helped avoid some of  the devastation but the truth is that staffing has been a regular and recurring issue in too many facilities across the  state for a long time.  
Nursing home residents are some of our most vulnerable citizens and need regular and reliable care. This bill will help  protect nursing home residents, ensure the quality of care in nursing home services and help improve worker safety  and morale.  
Therefore, this Federation urges this bill be passed. 
For further information contact the Legislative Department at 518-436-8516.