SUPPORT MEMO: ZERO EMISSION DEVELOPMENT
New York State AFL-CIO
07 Jan, 2022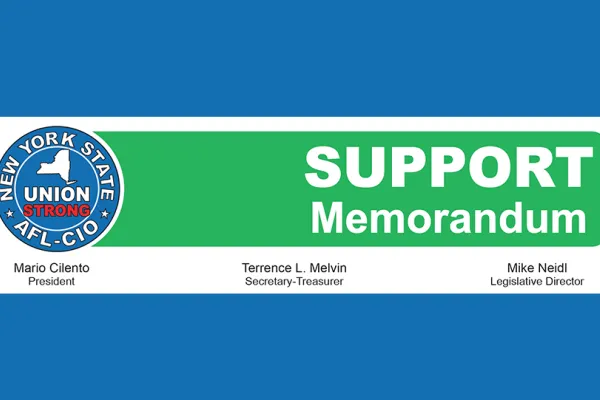 ON SENATE ENERGY AND TELECOMMUNICATIONS AGENDA 1/11/2022
SUPPORT ZERO EMISSION DEVELOPMENT
S6497A Parker/A8094 Cusick
The New York State AFL-CIO, representing 2.5 million union members and their families, as well as our retirees and their families, supports the above-referenced legislation.
This legislation would establish a zero-emissions energy system for New York State. These systems would generate electricity or thermal energy through technologies that do not lead to a net increase in greenhouse gases. Moreover, this legislation also includes important labor protections, such as prevailing wage, project labor agreements, and Buy American provisions that build on the Just Transition policies for renewable energy enacted in the 2021-22 state budget.
To achieve the goals of the Climate Leadership and Community Protection Act, New York State must utilize as many energy systems that do not create a net increase in greenhouse gas emissions as possible. This includes hydrogen and nuclear power as well as other green technology and emerging energy sources as well.
This bill will also create and retain union jobs in New York, help encourage the repurposing of existing facilities and incentivize private investment in new, zero carbon emission technologies that strengthen local communities. A Just Transition to clean energy can only occur if workers in the current industry are allowed to participate in the zero-emission energy future. This legislation will ensure that occurs.
Therefore, this Federation urges this bill be passed.
For further information contact the Legislative Department at 518-436-8516.