SUPPORT - SAFE STAFFING IN HOSPITALS
admin-user-default
30 Apr, 2021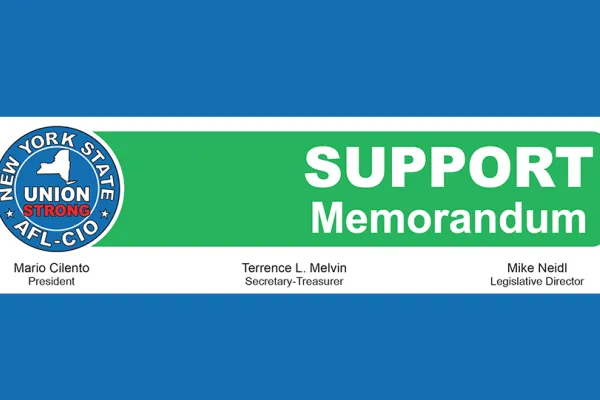 ON SENATE HEALTH AGENDA 4/26/2021 
S1168A Rivera/A108B Gunther 
The New York State AFL-CIO, representing 2.5 million union members and their families, as well as our retirees and their families, strongly supports this bill. 
This bill amends the public health law to require hospitals to establish clinical staffing committees to develop and  implement staffing plans for nurses and direct care staff in each unit of the facility. The bill authorizes the Department  Health (DOH) to establish regulations for several specific hospital units and establishes specific criteria that DOH should  consider for staffing plans in intensive care and critical care units. The bill also includes important transparency,  oversight and enforcement mechanisms. 
Establishment of safe staffing policies in all health care facilities has been a priority of the labor movement and this bill is a  major step forward in achieving that goal. The quality of health care in hospitals depends largely on the appropriate numbers of nurses and direct care staff that have the right skill mix as well as appropriate periods of rest and preparation.  Patient care and worker safety should never be put at risk as a result of inadequate staffing and poor workforce  management. 
Our healthcare system was overwhelmed during the height of the COVID pandemic and one of the reasons was the  desperate need for safe staffing levels in our hospitals. Unfortunately, improper staff planning had been a long-termproblem for years leading up to the pandemic. This experience has shown that the state needs to act now and this bill  is a major step forward in taking that action. 
Therefore, this Federation urges this bill be passed. 
For further information, contact the Legislative Department at 518-436-8516.