Join the Fight to Raise and Index New York's Minimum Wage
New York State AFL-CIO
17 Mar, 2023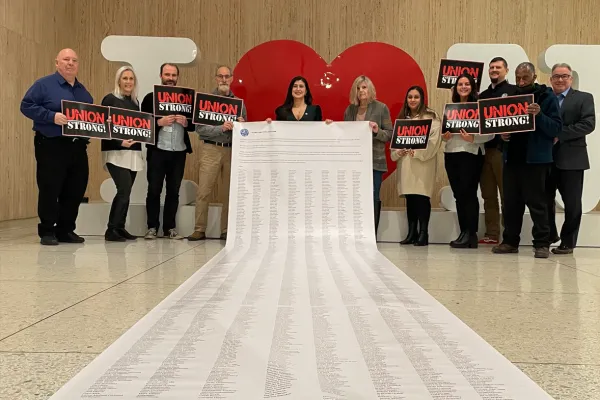 This week, the New York State AFL-CIO delivered thousands of petition signatures to Senator Jessica Ramos in support of her bill to raise and index the minimum wage (S1978A). We thank Senator Ramos and Assemblymember Joyner for sponsoring the bill. Both houses committed to increasing and indexing the minimum wage in their one-house budgets!
With the budget deadline fast approaching, we must continue to show our support for raising and indexing the minimum wage. You can help by sending a letter to your state legislators to let them know you support raising and indexing the minimum wage. It is important that they hear from you! The need for action has never been more urgent, workers quite literally can't afford to wait for a raise. We prepared a letter that you can send to your state legislators with the click of a button, or you can write your own.
Indexing means that the minimum wage would be adjusted each year to keep up with the cost of living. This policy would make a historic and permanent positive impact for all workers, particularly low wage workers.
Eighteen other states and Washington D.C. already do this. Indexing the minimum wage here in New York will help workers and their employers budget and plan for the increases, and it will create upward pressure to increase wages in all industries.
According to the Economic Policy Institute, raising and indexing New York's minimum wage would affect more than 2 million workers, or 23 percent of the workforce, including 1.4 million workers of color and 1.1 million women. Most minimum wage earners are adults and more than a quarter of them have families.
The minimum wage was created in the post-depression economy to implement a minimum standard of living to protect the health and well-being of working people. Every worker should be entitled to a fair, livable wage for their labor.