More than 1,000 Union Members attend Union Night at Citi Field
Kevin Eitzmann
29 Sep, 2019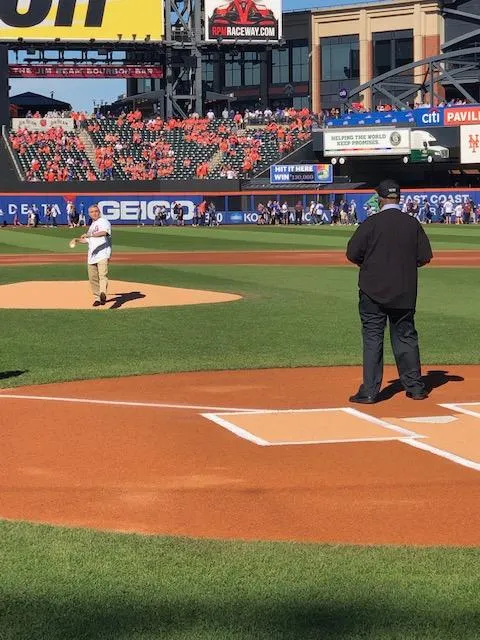 NYS AFL-CIO President throws out the first pitch
Albany – More than 1,000 union members and their families enjoyed an afternoon at the ballpark to watch the New York Mets final game of the season as they played the Atlanta Braves. The day was an opportunity for union members to show their solidarity by wearing Union Strong, union-made T-shirts at a game designated as "Union Night" at the ballpark.
New York State AFL-CIO President Mario Cilento threw out the first pitch. Workers United Secretary-Treasurer Edgar Romney Sr. joined Cilento on the field as the catcher.
New York State AFL-CIO President Mario Cilento - "The New York Mets have shown a true appreciation for the role of organized labor in this state. Union members helped to build Citi Field, they play at Citi Field, and they work at Citi Field. And now, today's event has brought more than 1,000 of our union brothers and sisters and their families together to enjoy America's greatest pastime, a day at the ballpark. We thank the New York Mets and Labor 411 for working with us to make this day a tremendous success as we proudly demonstrate that New York State is in fact Union Strong."
"As a huge Mets fan, it was an honor to be able to be on the field to catch the first pitch," said Romney. "But I feel even more privileged to be able to attend union night at Citi Field along with so many of my brothers and sisters with such tremendous union pride on display."
###
The New York State AFL-CIO is a federation of 3,000 unions, representing 2.5 million members, retirees and their families with one goal; to raise the standard of living and quality of life of all working people. We keep New York State Union Strong by fighting for better wages, better benefits and better working conditions. For more information on the Labor Movement in New York, visit www.nysaflcio.org.