New York State's working people need secure safety nets
admin-user-default
05 Sep, 2020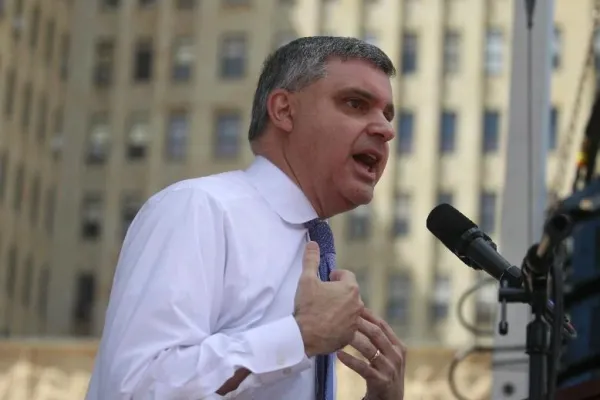 By Mario Cilento as seen today in the Buffalo News
Labor Day parades have been postponed and celebrations with family and friends will include masks and social distancing. But we can honor working people by acknowledging where we have been and where we need to go.
Workers in New York State have been, and continue to be, devastated by the Covid-19 pandemic and the resulting economic crisis. That's why, moving forward, we must keep workers safe, care for those whose lives and livelihoods have been impacted, rebuild our economy, and save the services New Yorkers rely on.
First, we must prioritize safety. The state Legislature passed a bill establishing safety standards in the public sector. Now, we need to pass the NY HERO Act, to require safety and health plans specific to Covid-19 for private sector employers.
We must have clear protocols for how and when school districts must close their buildings, and how health officials will perform contact tracing and initiate quarantines in the event of positive Covid-19 cases.
Second, if a worker is exposed in the workplace, they should receive care at no cost, as well as wage replacement and survivor benefits should they die. This can be achieved by establishing a presumption of workplace exposure to allow quick access to the financial security that stricken workers deserve.
We must remove hurdles for workers to access quarantine and isolation paid family leave benefits. We must ensure prompt access to unemployment insurance benefits by removing the penalty for part-time work. And, we must remove restrictions on eligibility for unemployment for voluntary separation, such as if an employee has a heightened health risk.
The pandemic has also highlighted the disparity between the rights of gig workers and employees, leaving app-based workers behind. App-based workers must be treated as employees with all the basic worker benefits.
Third, we must rebuild our economy. Opportunities include increasing investment in public transportation, roads and bridges, telecommunications infrastructure and renewable energy projects. But we cannot get New Yorkers back to work if we don't make affordable child care widely available.
Finally, we must ensure working people are not victimized again by the pandemic. When vital public services are cut, poor people and marginalized communities are disproportionately impacted. To ensure the continuity of services, we must raise revenue, by taxing the wealthy.
With bold leadership, we can protect all New Yorkers from the worst of the pandemic.
This is not just labor's hope, but on this Labor Day weekend it is our expectation.
Mario Cilento is president of the New York State AFL-CIO.