New York State AFL-CIO Endorses Schumer for Re-Election
New York State AFL-CIO
26 Jan, 2022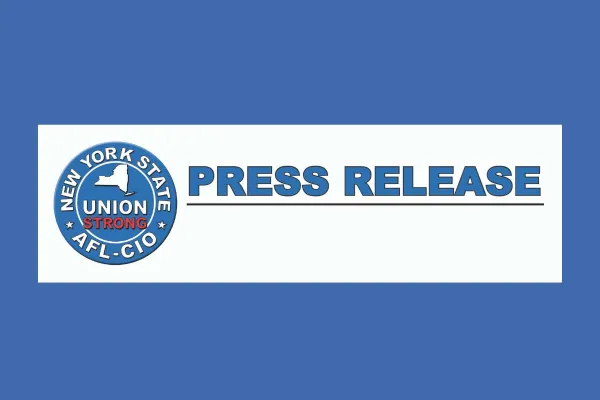 Albany, NY - Today, the 2.5 million member New York State AFL-CIO announced the endorsement of United States Senator Charles E. Schumer in his bid for re-election.
New York State AFL-CIO President Mario Cilento said, "When it comes to fighting for working people, Chuck Schumer has set the gold standard.
"He delivered $13.5 billion for New York roads and bridges, secured $25 billion for New York public transportation, $2.5 billion for water infrastructure and billions for airport relief and development.
"Chuck worked hard to safeguard benefits for 9/11 survivors, responders and their families and he secured funding to cover the pension plans of thousands of hard-working union members and retirees that were in jeopardy of solvency.
"As U.S. Senate Majority Leader, Chuck Schumer is one of the most powerful people in the country, yet above all else, he has never stopped fighting for New York," said Cilento.
"I am deeply proud to receive the endorsement of the New York State AFL-CIO and the 2.5 million hard-working New York union members they represent in over 3,000 locals. I am eager to continue to stand shoulder-to-shoulder with union members across New York to fight for progressive policies that deliver real results for working families. From delivering billions in state-and-local covid aid for our public sector workers, to passing a trillion-dollar historic infrastructure-and-jobs bill to put countless construction workers on the job, to saving our public transit and health systems, to passing extended pandemic unemployment insurance, to fighting for laws to make union organizing more possible and prevalent, I will never stop fighting for New York's working people.
"I look forward to continuing the fight for economic justice with the men and women in the NYS AFL-CIO along with President Mario Cilento and all union leaders across this great state. New York is a union town, and I am proud to be a pro-labor senator," said Senator Chuck Schumer.
"We look forward to educating our members on all Chuck has done for New Yorkers and ensuring they get to the polls and support Chuck Schumer for re-election," Cilento added.